Our Approach
Our coaching style is based on "The Power of Habit", "Checklist methodology", "Immersion Coaching" and "V.A.R.K learning styles". Our foundational principles are inspired by the learning styles of Charles Duhigg, Atul Gawande MD, Tony Robbins and Neil Fleming.
In his book-The Power of Habit, Charles Duhigg explains about how habits work. We have adopted the similar concept for Vital Checklist. The key to becoming successful in Step 2 CS is by transforming old habits into meaningful habits — which decreases variation, improves flow and prevents repetition of questions. Vital Checklist follows the similar concept and employs the Charles Duhigg's Habit Loop to train medical students to be consistent. It is not that medical students don't know how to gather data, do basic clinical exams and interact with patients but the matter of the fact is to have a consistent, timely and meaningful interaction with the patient. In USMLE Step 2 CS Exam, medical students have only 15 minutes to interact with patient. All Medical students have learnt a routine but we want to help them perfect their practice and make it consistent in every interaction with the patient, be it standardized or real. According to Charles Duhigg, we should not focus on the cue or rewards but should focus on changing routines to get positive results.
For USMLE Step 2 CS students, reward is passing Step 2 CS exam and the trigger is communication. Now, if they are following the similar approach that does not follow consistent routine, they may not overcome the constraint of data gathering, clinical exams, counseling patients and assimilating all the data in assessment & plan. We at Vital Checklist, are helping students in transforming their skills and case-taking routine by using Immersion Coaching, Checklist methodology and V.A.R.K. principles (Visual-Auditory-Reading & Writing-Kinesthetic) so as they are consistent every time in our workshop and during their USMLE Step 2 CS.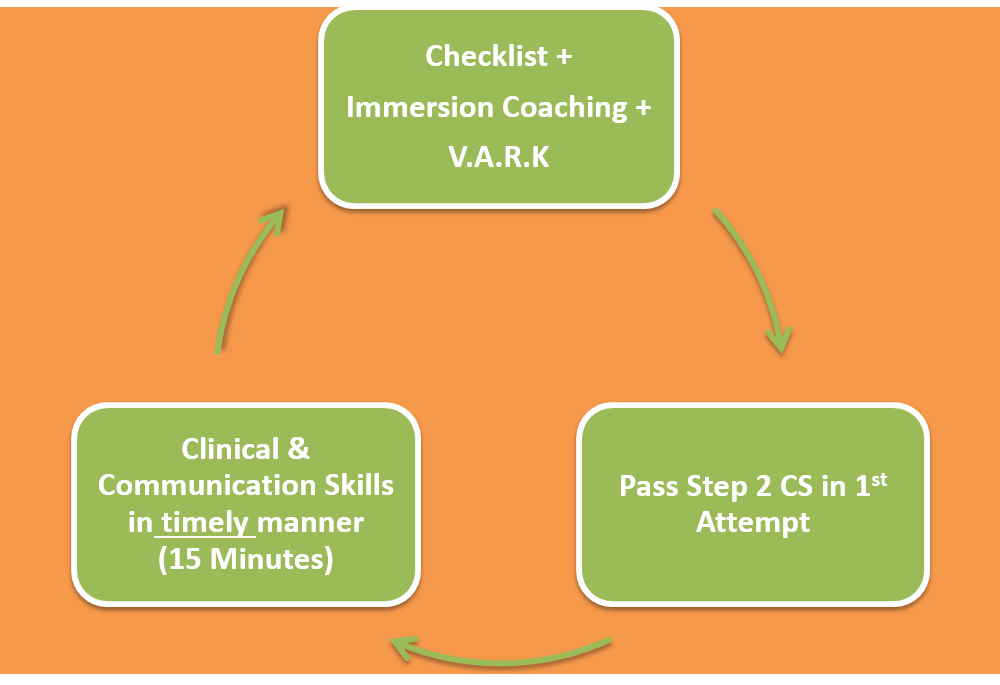 What is the most major constraint in Step 2 CS?
it is
Time
Time management is crucial in the USMLE Step 2 Clinical Skills exam. It is because of the integrated clinical encounter or communication interpersonal skills that there is mismanagement in time.
The Subcomponents of Step 2 CS are
1. Integrated Clinical Encounter (ICE)

Data gathering – patient information collected by history taking and physical examination
Documentation – completion of a patient note summarizing the findings of the patient encounter, diagnostic impression, and initial patient workup




2. Communication and Interpersonal Skills (CIS

Questioning skills
Information-sharing skills
Professional manner and rapport




3.Spoken English Proficiency (SEP)

Clarity of spoken English communication within the context of the doctor-patient encounter




These subcomponents were the constraints for students in the exams. Foreign medical graduates and the medical students have learnt different history taking skills in different languages. Not only that, but they have a completely different examination skills. 
For example, in India, medical students are taught to do auscultation after the palpation while in US auscultation should be done before palpation.
Every student is different and has different constraints. Every medical student needs special care and  needs to have a focused practice and training depending on their constraints.

If every student is different, before we start coaching them we need to find their constraints. If we don't find the constraints, how can we train them to overcome those?
Remember "

What gets measured gets managed

"(Peter Drucker)

Defining Constraints, we believe in
"

Adapt, Modify & Memorize

"

Day 0

Before the coaching begins, every student will do a clinical scenario so that we can define the constraints of that student. Once we have measurable data for all the students, then we will start our coaching process. To improve, we need to know the constraints.

Day 1, 2 and 3

We immerse the students in hands-on training with standardized patients, they learn how to explain the standardized patients with pictures, mnemonics and checklists. If one of the students has constraint in any key area such as: data gathering, clinical skills, communication and English speaking then we step up all the resources to overcome that constraint. We will bring in-line all the subcomponents in Step 2 CS to help the students pass their exams. At Vital Checklist, video recording and analysis is extensively used to capture all the interactions with the patients and teach the students.

The basic approach of Vital Checklist is not to teach large groups of students but to teach in smaller groups, in a focused manner. We keep on practicing until students are confident. We believe in Practice towards Perfection. We understand that medical students have different learning styles and therefore we use Neil Fleming's approach (V.A.R.K.-Visual, Auditory, Reading & Writing and Kinesthetic) to train medical students. For learning language, it is preferred to use immersion technique which is what Rosetta Stone uses to teach new language. Anthony Robbins uses has trained many people using the same technique. We coach students in smallest possible time with maximum impact.

We know there are number elements which medical students need to have command on for the students to pass Step 2CS: taking good history, doing relevant physical exams, proper counseling, managing time and writing a good patient note with proper differential diagnosis. Most vital is providing a setting as in USMLE Step 2 Clinical Skills Exams, which is "practicing with standardized patient". A standardized patient is a layman who portrays the real-life clinical scenarios.

When Dr.Singh was appearing for his exams, he found that his main constraint or bottleneck was time management. If the student has to be coached properly he knew practicing doing history and physicals with proper counseling in 15 minutes was the most important point. As medicine is very complex and needs years of experience to ask the correct questions, he developed an easy way to teach medical students with help of "Vital Checklist"- an idea adopted from Atul Gawande's The Checklist manifesto. At Vital Checklist workshop, he coaches not only students but also standardized patients with the same Vital Checklist methodology as this helps in grading medical students. All Medical students are graded in same way irrespective of the standardized patients.

Every hospital is focused on improving their Consumer Assessment of Healthcare Providers and Systems (CAHPS) and therefore, passing of USMLE Step 2 Clinical Skills exam in first attempt becomes essential component in their residency application process (http://www.hcahpsonline.org). We believe in practice towards perfection. Our vision is to make sure all medical students pass their exam in first attempt and have excellent performance in their residency. We focus on each student separately and provide feedback instantly so students can correct themselves at that very moment.

Our coaching with checklists has led to success of many students in USMLE Step 2 CS Exams. We at Vital Checklist Workshop are helping the medical students to achieve their Personal Hedgehog Concept. Jim Collins in his fascinating book explains about the Hedgehog concept for businesses. Most successful companies align themselves according to the Hedgehog Concept. However, we adapted this concept for personal lives.

What can we be best at?
What drives our economic engine?
What are we deeply passionate about?

Every medical student is passionate about becoming a doctor, everyone is learning hard to achieve that. But we focus on you, to develop the special commination skills with your patients and co-workers so that you can achieve a much higher patient experience and outshine in your career!

We at Vital Checklist Workshop are helping medical students to transform their passion and skills into a dream job.

source:

agilelifestyle.net