Normal Pressure Hydrocephalus  —   CSF is not absorbed- A form of communicating hydrocephalus, where CSF pressure is normal.
Ventricles are chronically dilated.
Clinical symptoms– Triad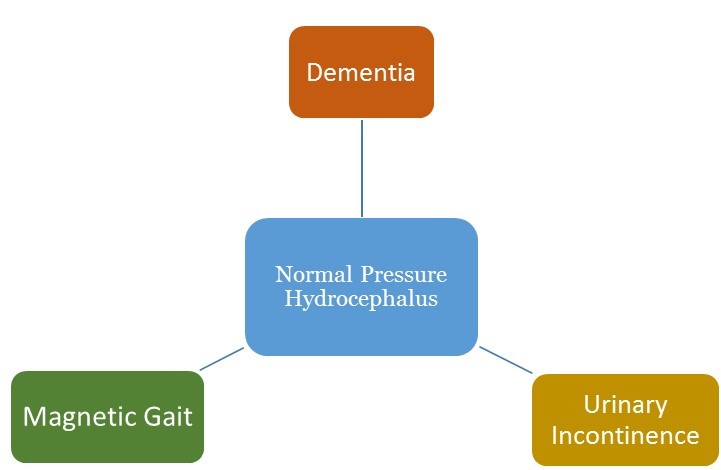 Exclude treatable causes of dementia (e.g. Vitamin B12 deficiency, Hypothyroidism)
Screening Test: CT Scan, MRI Scan
Confirmatory Test:
(Gold Standard) Ventricular Shunting- Diagnostic and therapeutic. Improvement of symptoms on removal of CSF- Not generally done as it is very invasive.
Lumbar Tap is a simple procedure that can be carried out in office settings.
Lumbar drainage- Continuous drainage of CSF (@ 5-10ml/hour) for 2-7 days.
Do not follow up with neuro imaging as ventricular size does not decrease. Follow up on clinical improvement is more important.
Other tests: Cisternography, CSF infusion tests.
Treatment: Ventricular shunting
Complications of Shunt:
Infections, Seizures, Hemorrhage, Shunt Failure, Peritnonitis in VP shunts, Arrhythmias and systemic emboli due to incorrect catheter placement
I-SHAPE (I-Infections, S-Seizure, Shunt Failure, H-Hemorrhage, A-Arrhythmia, P-Peritonitis E-Emboli)