ROLE OF PHYSICIAN IN MULTIPLE SCLEROSIS PATIENT- A YOUNG PHYSICIAN'S PERSPECTIVE
A physician plays an eminent role in chronic diseases for which treatments are not curative. Multiple sclerosis as of now is one of those diseases. It is a chronic neurological disorder that damages the myelin sheath of the nerves i.e. it affects the nerves and damages their information delivery system, thereby disrupting the flow of information which causes symptoms like numbness, blurred vision, weakness, fatigue and many other symptoms. It may present in childhood or adulthood.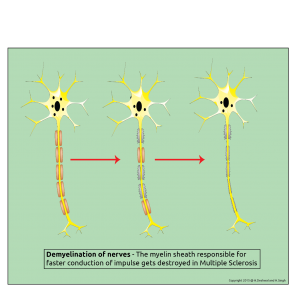 Once multiple sclerosis is diagnosed it is for the physician not only to understand the patient but also be aware of his or her own feelings and attitude towards the patient's reaction and need. His role is to serve the patient and his/her family, to provide them the information and support they may require to adapt to the unknown future because of the variable course of the disease, as well as, to the variability of symptoms in each patient. Also, the doctor needs to be sensitive to the subjective symptoms such as fatigue, pain which can fluctuate markedly in the course of the disease. It is essential for the primary care physician to work closely with the neurologist and be clear about their individual responsibilities.
When talking about the diagnosis or prognosis the doctor should not merely talk in medical gibberish but in a language patient can easily understand as the goal is to establish an appropriate compassionate relationship with the patient. It is sometimes difficult for the patient to take in a lot of information in one go hence frequent visits must be scheduled to establish long term relations and prevent solitude and emotional distress in the patient. It is best to see a family member and patient together after taking due consent from the patient to help them clear their doubts and express their feelings. Skill is required to assess how much a patient really needs to know at a time since in today's world instantaneous access to the internet can cause great deal of stress or relief to the patient depending on the content accessed. Technology can, however, be used for the betterment in such patients as it allows easy access to support groups, online self-management tools, nutritional tools and medication reminder tools.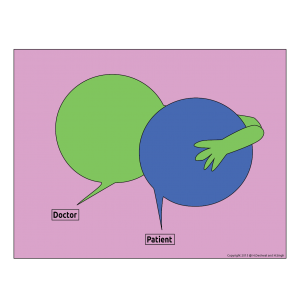 In the initial course of the disease, the physician needs to understand the denial phase in these patients as they may appear shocked, angry and depressed. Here the need is to explain to the patient that this is a normal reaction and should neither be discouraged nor over indulged. Sometimes the way the patient reacts may not necessarily be related to the severity of the disease hence a careful examination of the patient is necessary. The reaction of the patient may depend on several factors such as the way it affects their work life, sex life, friends, family and overall health. The best encouragement for an MS patient is to be valued and respected by others. They need to keep themselves busy and their mind occupied.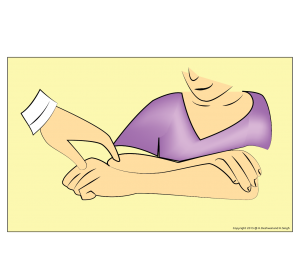 When one member of family has MS the whole family gets affected, the role of counselling with a social worker's support becomes essential here because for example children of an afflicted parent are very sensitive to stress at home, they may become disruptive and attention seeking if their needs are ignored because of suffering member in the family hence such issues should be dealt at appropriate times.
The doctor should combine their medical knowledge and expertise with communication skills to be fully effective. They must realize they can help the patient best by giving them time and by just listening to them on occasions because a person gains a great deal of relief by just sharing his fears and confused feelings and by getting accepted by a fellow human being. The role of a guiding force is also to be played by the physician when the patient is looking for alternative and complementary medical therapies. The challenging part is sometimes patient may become difficult to deal with but it is a doctor's responsibility to help them overcome these problems and understand that they are due to patient's insecure response to disease. They must never abandon their patients.
Many patients find it helpful to meet others who are undergoing similar experiences hence they should be encouraged to join such support groups and societies which help out in a positive manner. The physician must teach their patients as much as they can as to how to deal with problems because knowledge is power when it comes to making the best treatment decisions.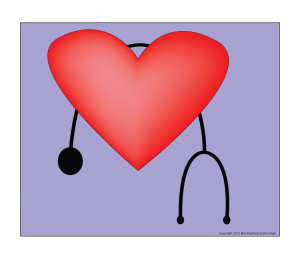 End of life care and palliative care should also be discussed with the patient during course of visits if the physician feels the patients' health is declining or reached end stage. These issues are difficult to deal with however if dealt in a sensitive and appropriate manner it can allay lot of physical, emotional as well as spiritual fear in the patient and their family. An open dialogue with an appropriate specialist must be encouraged in such situations.
To conclude, the virtues of a physician that is accurate clinical judgement, compassion, empathy and honesty should be kept in forefront when dealing with such patients, thereby helping them through the course of disease to lead a respectful, healthy and regret free life achieving their peace of mind and feel unburdened because this is what every chronic illness patient or rather every human being wants after all. Hopefully, a day will come when we will be able to cure such diseases.
Illustrations: Himanshu Deshwal