Phase I: My first journey to The US
Anxious, petrified and perturbed I was, sitting in the Terminal 3 of Indira Gandhi International Airport, New Delhi, India, ready to board my first flight outside the country.
It also happened to be the day my USMLE Step 2 CK result would be declared while I would be in mid-air over the Atlantic Ocean en route to Grand Rapids, Michigan, U.S.A.
My nervousness was like devil popping over my head scaring me to death, about all the possible things that could go wrong. To allay my fears, my 'guru', Dr. Singh had called me to prescribe a capsule of TACP (Take A Chill Pill), a highly effective medication when taken in the correct dosage.
Three hours prior to touching down at Chicago, U.S.A, my stress levels rose to critical levels, almost on the verge of a panic attack. My result was out, and I could not access it as there was no internet connectivity 30,000 ft. above land. As the plane landed, my phone was overwhelmed with a tsunami of text messages pouring in from friends and family. Everyone had been informed about my result, me being the last one. '255,' read the text message my sister had sent a few hours ago.
I jumped off the seat with jubilance, barely containing my expressions. People thought I had gone berserk due to the long flight to America. Little did they know, my life was about to change forever.
I had scheduled my USMLE Step 2 Clinical Skills exam for June 1st, 2015. Coincidentally, I was working on a few ventures in Vital Checklist with Dr. Singh, who also happened to be the Master Shifu for Step 2 CS training. So, I had the privilege of staying with him and getting trained for CS exam.
He welcomed me with a warm hug and we reached his residence at about midnight. Mrs. Singh had prepared 'Aloo parathas' and 'Chole masala'. The jetlag, the change in time zone and now the piquant Indian food, made me ecstatic. I could not distinguish whether I was really in America or one of those whimsical dreams back on my lovely bed in India. It took me a week to recover and realize that my dream had begun.
Phase II- Step 2 CS training begins
I asked Dr. Singh, how he planned to go about the training. He replied, "Oh, yar! Don't worry, it is none of your business anymore. It is my responsibility now. Just enjoy America for a while. Your training has already begun."
It took me time to understand what he meant, but soon things started to fall in place. I realized it was not him alone as the trainer. He had his entire team ready. Mrs. Singh, being a mother of two lovely little angels had already initiated the process. She had laid some ground rules for me.
No speaking in Hindi until the exam.
No sarcasm in the language
Basic rules that every human follows in America that include basic courtesy, smile and greet, acknowledge and appreciate human values.
For a moment, I did not understand, why it was supposed to be that way. Dr. Singh explained, "Your neurons are currently firing in the Hindi language. That is why you are using 'umms' and 'aahs' when you speak in English. Your brain has to convert every sentence in English and then speak. We need your neurons to fire in English before we proceed." He called it 'Immersion Coaching', which he adapted from Tony Robbins
Days passed, and I got engaged on other projects, completely forgetting that I had an exam to take in a month. A sense of anxiety started to shadow me again. I asked him, "Dr. Singh, I am worried about the exam, what is the plan?" He replied calmly, "Oye thand rakh puttar! (Keep cool son.)"
Phase III- The turning point
Next day, another fellow student flew in. She was working on a few assignments in Vital Checklist and had passed her clinical skill exam with high performance. A flamboyant personality, an active speaker, a fitness freak, Tanya became my friend in no time. She volunteered to teach me alongside Dr. Singh. This was a critical juncture in my training as now the team was complete, and I was surrounded by people who were guiding me magnanimously and with full dedication. I promised myself that I would return the favor by helping other fellow students in the pursuit of their dreams, the road to residency.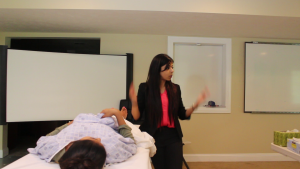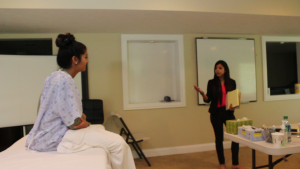 It was a good sunny weekend of early May, and Dr. Singh taught me a few mnemonics for history taking and physical examination. He told me to learn them and practice each mnemonic with examples 20 times. I was more absorbed in my ego and thought, reading a renowned prep manual would be more helpful than spending the whole day practicing these mnemonics. I retorted that this was not helping. He said, "Let us practice a case and record it for assessment. Then we will see where you stand at present."
I cannot describe in words, the trauma I went through in those fifteen minutes. I felt I was eaten alive by the standardized patient. I had tears in my eyes, something that had not happened since a long time. I learned my lesson and reiterated the mnemonics. Tanya taught me and practiced many cases with me day in and day out. Her support at this phase was paramount. Each day Dr. Singh would explain me theories he had developed on patient interaction, clinical and communication skills, the art of challenging questions and empathy. He had a beautiful explanation of every concept that engrained in me for life.
I also got the opportunity to rotate under Dr. H. Paul Singh, a renowned Interventional Cardiologist in Grand Rapids. Under him, I got the exposure to real life patients in the outpatient clinic and the experience was very similar to the actual clinical skills exam. It helped me immensely to overcome my barrier of speaking to the patient and empathizing with them. He also taught me various clinical maneuvers which were of great significance in scoring high performance in the clinical skills exam as well gain confidence of the patient.
Phase IV- The final countdown
I prepared for fifteen days, and Dr. Singh invited over his team of Standardized Patients (SPs) for a mock CS exam. He video recorded the whole session again to compare and assess me for improvements and mistakes.
I felt nervous initially, but words started to fall out of my voice box, and all the practice started showing the result. My neurons had begun to fire in English, and I was fluently communicating with the patients. I was able to make a good rapport with them, acknowledge their emotions and empathize with them when required. I also threw in a few punch lines, like "As you see Mrs. Smith, the tissue is the issue. Without taking a piece of your tissue, we cannot comment on the physical examination findings whether it is a harmless growth or cancer."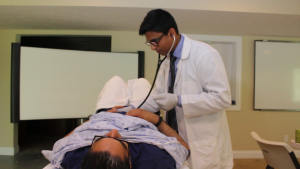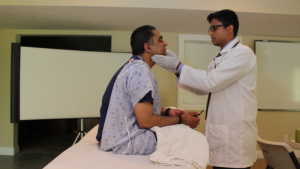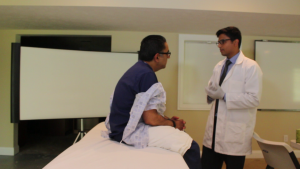 The final case scenario was prepared by Mrs. Singh, who herself has been a standardized patient for many years. More so, she is considered the most difficult and dreaded SP of all. I was informed in advance, "If she passes you, you cannot fail the clinical skills exam."
The bell rang, and I entered the room. A lady sat on the patient table. Her head covered with a scarf, eyes hidden by sunglasses, sitting lifeless like a statue. I was yet again surrounded by a storm of epinephrine. I could barely contain my heartbeat. For an instance, I thought I would lose consciousness out of fear as such a clinical scenario would be a nightmare in an exam so crucial to our careers. I held myself firm and started the conversation. I greeted her but did not get any response. I tried a few more tricks, yet of no avail. Then I took a soft breather and remembered the theories Dr. Singh had emphasized. My approach changed, I created a warm and trustful environment in the room, and the scenario began to uncover. She had made bruises on her face with color and other artifacts that were virtually impossible to distinguish from real injuries. It was a case of domestic violence. I gave my one hundred percent and was able to challenge it though I ran a few minutes over. Below are some stills from of the actual encounter.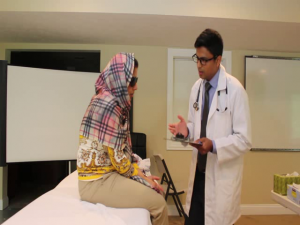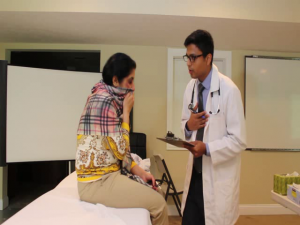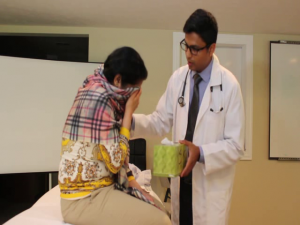 Everyone, in the hall, applauded my performance and said, "You are ready." A sense of satisfaction felt like ice water pouring on my burning heart. My confidence level stepped up. I was a changed person. I could never fantasy in my wildest of dreams to deal with so much pressure. The whole team had worked so hard with me. From a shy boy, I was a confident physician now. I realized that hard work, dedication, and correct guidance is cardinal to achieve your goals. I went to Houston a week before the exam, I tried to teach these magical formulas to a few fellow students and was motivated to give the exam with grace.
Phase V- It got over in a jiffy
The final exam got over before I could realize that it had, in fact, started. It was completely an involuntary process, and I felt I had nailed it. Today the result was declared, and I passed with flying colors, securing high performance in CIS (Communication and Interpersonal skills) and SEP (Spoken English Proficiency) section. I could not have done this without the Vital Checklist team, who gave their heart and soul in training me and helping me get over my shy and frail attitude.
P.S.: – This article was to express my experience of CS exam preparation. Next article to follow will be on how to prepare for it and guarantee a 100 % success rate.