Whipple's triad
Whipple's Triad is a triad of symptoms suggestive of hypoglycemia.
It includes:
Spontaneous hypoglycemia with blood sugar levels less than 50mg/100ml
CNS or vasomotor symptoms that may range from excessive sweating, dizziness, syncope to odd behavior and seizures
Relief of symptoms by oral or intravenous administration of glucose.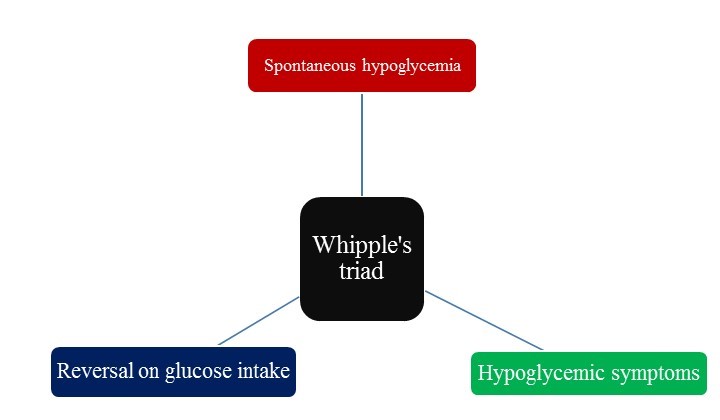 Chronic hypoglycemia leads to attenuated autonomic response. Therefore, it may present with CNS symptoms due to neuroglycopenia (neuro-nerve; glyco- glucose; penia- deficiency).
Symptoms occurring while fasting or following exercise are more likely to be pathological than post-prandial-reactive hypoglycemia.
Reactive hypoglycemia/ postprandial hypoglycemia- recurrent episodes of hypoglycemia occurring within 4 hours post meal. It is thought to be due to an excessive release of insulin after a carbohydrate dense meal, the levels of which remain high even after digestion.
*Always consider hypoglycemia in all comatose patients even in apparently obvious cases like hemiplegic stroke or alcohol intoxication.
Causes that may present as Whipple's triad: