Communication Box
Moving Patient Education to the Bed-Side.
Efficiently meeting the most
severe challenges

of healthcare
How can you reduce length of stay?
What is your HCAHPS score?
Not just the benchmarks, Do you want to attain 100% score in the survey?
What can you do with ED Boarding?
What about patients that "left without being seen"?
Discharge and Admission are undoubtedly the most crucial processes in healthcare. The medical staff is under enormous pressure and constant shortcomings at different levels lead to "timely" Discharge and Admission Failures. If Discharge is delayed, new patients waiting in Emergency Department have to wait longer, and this rise in ED boarding makes them "Leave Without Being Seen". To tackle discharge delays, Caregivers would often rush up the Discharge process, giving less time to their patients and stepping over the most essential "Time" and "Education" required for patient's well-being. Such anxious caregivers lead to poor hand-offs between themselves and lead to poor communication with patients and family members. As a result, the not so well informed patients go home without proper consultation and guidance, and raise the readmission rate which is a big liability to the hospital and caregivers. So we see that the Discharge process delays and inefficiency is a big cause of low HCAHPS score So the question is: How to take Caregivers out of this vicious circle of a LOOSE-LOOSE situation by streamlining and standardizing their Discharge process, bump up Admission process and raising overall patient experience, which is the basis of HCAHPS Survey Score
We do a
Cause and Effect Analysis

in a Fish-Bone diagram to identify the most

likely problems!
Waiting Area
Left without being seen
Ambulance Diversion
Fewer Throughputs
Emergency surgery takes precedence and needs the inpatient room on urgen
Direct admit from other doctors offices and tertiary hospital  block the beds
Admission Problems
Because Elective surgeries are front loaded during the early part of the week
Direct admit from other doctors offices and tertiary hospital  block the beds
Because Elective surgeries are front loaded during the early part of the week
Emergency surgery takes precedence and needs the inpatient room on urgent basis
Discharge Problems
No sign-off from Physicians, engaged in other emergencies
Insurance approval for the medications
Transportation has been not arranged
Physical Therapy has not been arranged
Patient not trained to self-administer injections. Patients not being well-informed.
Emerg. Dept. Full
Emergency Surgery, trauma, chest pain takes precedence
Long wait times in the ED
Stress level increases, patient satisfaction decreases.
Critical patients may be sitting in the waiting area.
Liability increases
Insufficient staffing
Lack of co-ordination between staff
Improper workload distribution
E.D. Boarding
Delay in care
Medical errors
Medical Negligence
Ambulance Diversion
Financial loss to the hospital
Increased patient mortality
Increase hospital length of stay
Unwanted overtime for staff
Inadequate administrative control
Discharge Process
Waiting for the ambulance or caretakers
Nursing home is waiting for insurance approval
Radiology and other tests are pending
Pharmacy have not explained about the side  effects of the medications
Social services and care management have not arranged for the resources or home health nursing
Nursing have not given discharge instructions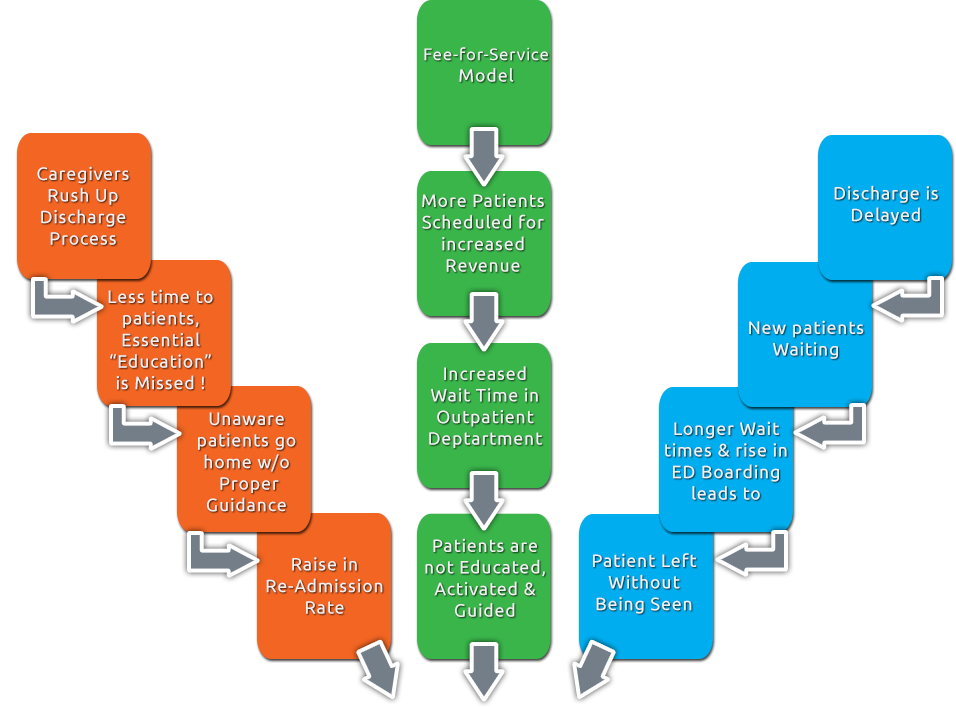 Teach-Upfront Methodology or TUM
Communication amongst caregivers is also vital but Time is again a constraint for them as well. Our solution to cope up with this problem is using "Teach-Upfront" Methodology or TUM. We Teach-Upfront with checklists, which have been chunked and articulated for easy memorization.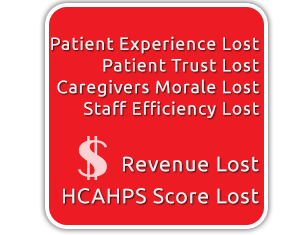 After Discharge
But Wait!! What happens when the patient goes home, enters his daily routine and forgets about the Discharge Instructions, the Teach-Backs given during stay and Discharge?
What can you as an eager caregiver do to counter this situation. You can't be there with him in his daily routine, how can you still touch base with him for certain vital checklists that you taught and educated the patient for?
We also have
YouTube videos

so patients can learn about this checklist's at their own pace. Basically, we are bringing "in-line" all the resources to make patients TUM, help them with short-term memory and long-term memory. TUM will help them to change their habit-loop. TUM doesn't replace Teach-Back.

TUM

and

Teach-Back

together will help to retain the discharge instructions.

Out of Sight is
Out of Mind We need to upgrade to a 24x7 tangible "TouchPoint" that will help the patients which can buzz the patient every now and then and expose the Checklists and Mnemonics so that he is always prepared to ask questions upfront. We devised the Communication Box.

Routine is giving discharge instructions at the time of discharge and that at time a lot of medical information is given to the patient, which is difficult for them to remember even if caregivers do a Teach-Back. In the first 24 hours, there is a steep drop off in retention of the information passed to the patients. We at Vital Checklist propose adding Teach-Upfront with standardized printed checklists on the Communication Box. This will be an adjunct to the Teach-Back method, which is used to discuss the customized discharge instructions printed through electronic health records. As per Charles Duhigg, if you want to change habits, keep the old cue and the old reward and introduce the new routine.
Train Your Patients to:
Ask Questions Upfront!
Ask Questions from anybody and everybody!
Medical knowledge is complex, patients can't remember the all instructions all along. We've developed standardized checklist's with which we want to bring caregivers, patients and family members all on the same page. To remember a number of these "Vital Checklists" we need 24x7 tangible touch point which can present these checklists to the patients. Communication Box, is one such utility box that can be with the patients, in front of their eyes reminding and "touching" them persistently for their clinical guidelines. This multipurpose, biodegradable, storage box and will act as a "baton" from caregivers to the patients and further hand off from patient to next following caregiver.

Lets step ahead for enhancing patient experience, improving HCAHPS rating.
Let us Adapt and Communicate well with the Communication Box
The Box can have different instruction sets as per the medical subject



The box can be custom desgined for specific practices and medical subjects, as can be the Checklists for different medical conditions.
We can Co-Brand the Box with the caregiver facility name and logo. This way, the patients will have a more intimate touchpoint with your hospital/practice name.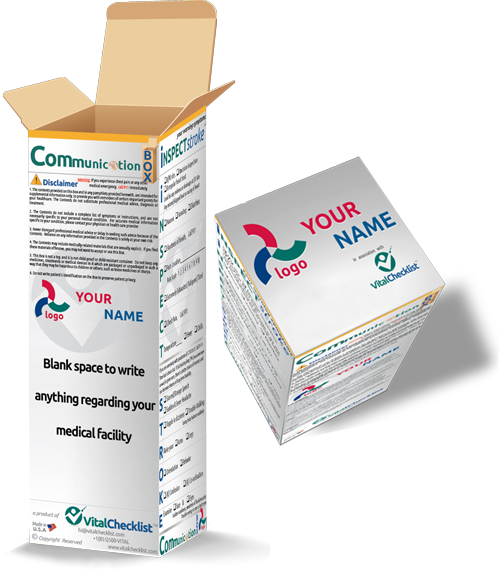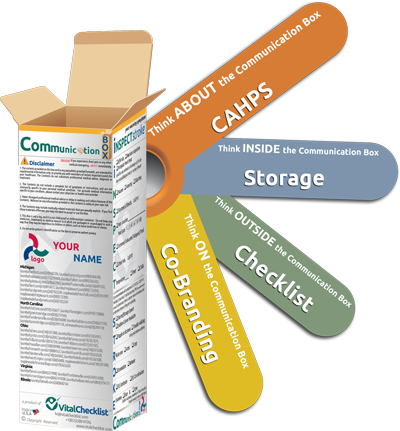 To order your version of the Communication Box:
please send us a mail at hi@vitalchecklist.com
or call us at +1(269)818-1000
Please ask your marketing department to connect with us, share your logo so that we can show them the prototype.
Enroll Now