Good and meaningful Communication, What does it mean?
Practicing internal medicine for so many years and being a primary care physician to so many families, Dr. Singh knew that patients duly respected him as a doctor, and would say good things about him. But often he used to wonder do they really Love him and trust him for the years to come? It's a very sensitive relation that forms between a patient, his family and their doctor. When in pain, you seek answers to your questions, you want someone to stand by, someone to chit-chat and ease your anxiety. While getting treatment and counseling, patients are giving their life in your hands, and such anxiety and inquisitiveness is natural. Apart from providing them with the medical treatment, what they actually need is LOVE, care and sharing of ideas which can only be achieved by easy and meaningful two way communication.
Kevin Roberts, CEO of advertising agency Saatchi & Saatchi (Worldwide) inspired the "love Communicating" ideology. After reading his book Lovemarks, we wondered how we could create Lovemarks with our patients. This basically means, being a doctor, how you can have high respect and high love from your patients.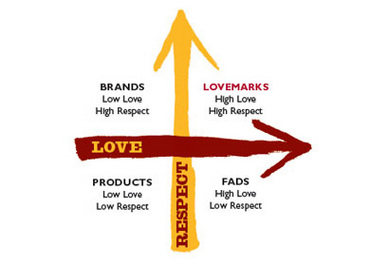 reference image from
lovemarks.com
If you possess excellent communication skills and the patience of having timely and meaningful conversations with your patients, you will ultimately leave a mark of Love in the patient's minds.
Doctor can only develop lovemarks if communication channels are open with the patients. If we shy away from giving our phone number to the patients, how can we develop a lovemarks? Some doctors have their caller ID blocked so that patients cannot track their numbers. Huh!
Again, agreed everybody has a life and doctors want their family time, but we believe that giving a phone number to the patient will not disturb your family life as they are mindful of your time off and will only call when in dire need. If the communication channels are not open, patient may still have high respect but may not 'love' their doctors. In fact, one of the most important aspects of the Hospital Consumers Assessment of Health Care Providers and Systems (HCAHPS) is a Physician Communication.
Let's change the culture and transition us from Brands to Lovemarks. This is only possible when we adapt, embrace and Love Communicating...