Why is
USMLE Step 2CS

so important?

The answer lies in the Value-Based Purchasing that encompasses two segments: Hospital Consumer Assessment of Health Care Providers and Systems (HCAHPS) and Care Transitions. All hospitals are compared as per HCAHPS and care transitions (www.hospitalcompare.gov) and their payments and reimbursement will be based on the surveys done by the patients and benchmarks fulfilled on the core measures scale. In this protocol driven healthcare society, we know that communication between the health caregivers is weak and inept. In fact majority of the errors happen because of the inadequate communication problems. If a student fails the Step 2 CS exam, this basically means that he failed one of the three sub segments in the exam namely: 1) Integrated Clinical Encounter, 2)Communication + Interpersonal Skills, and 3) Spoken English Proficiency. This when translated to the HCAHPS survey will cause a dent in the value based purchasing.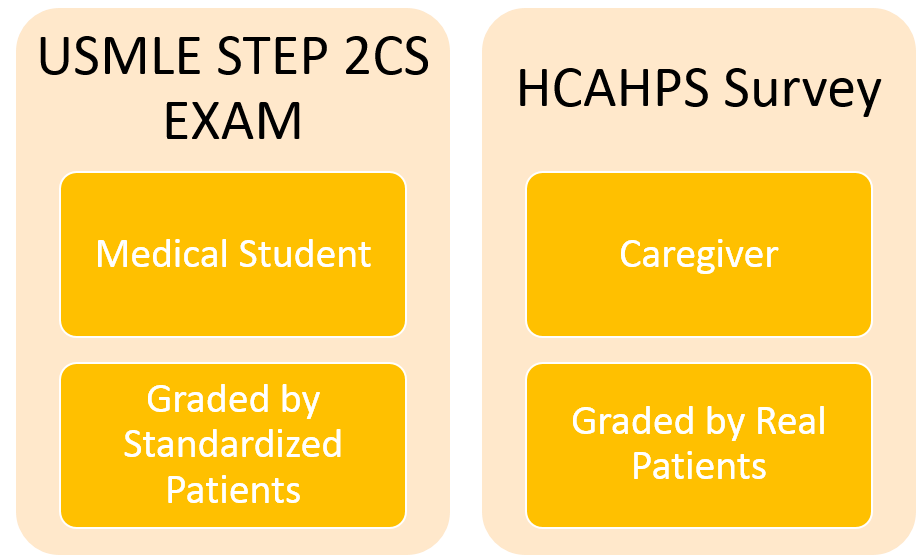 "If you flunk in USMLE Step 2 CS exam, what will be your results of HCAHPS Survey?" This is exactly what a Residency Program Director is thinking about you! That's the reason you may not get further interview calls if you cannot pass in the first attempt.
Let's compare
USMLE Step 2 CS

with Value Based Purchasing:

HCAHPS + Care Transitions
USMLE

Step 2 CS

HCAHPS

+ Care Transitions

USMLE Exams are graded by the Standardized Patients

HCAHPS Survey are rated by the real patients

Written note is graded by the doctors

Value based purchasing is analyzed by the C-Suite (CMO, CEO, etc.)

Communication and Interpersonal Skill  in Step 2 CS is a very important sub-segment to demonstrate clinical understanding and problem identification.

HCAHPS survey mainly grades physicians on their Communications, discharge instructions, explaining about the medications, taking care of the pain and constitute 30% of the reimbursement in value based purchasing

Integrated clinical encounter is as important part of the Step 2 CS which entails data gathering and documentation. Your responsiveness is duly measured.

Care transitions and fulfillment of the core measures constitute 70% of the value based purchasing and thus good clinical history, documentation after a proper physical examination and explaining in lay man language becomes the key in our value based healthcare

Spoken English Proficiency is third most important part in the exam.

United States will be facing shortage of health care givers because of the aging population and we need more caregivers. However, if you cannot communicate and immerse well in American culture, it will be very difficult to get good scores on HCAHPS.
The ultimate questions for the medical student are:
How loyal is the patient to him or her after patient (Standardized or real) is evaluated. Will this patient refer new patients?
Are you a promoter of your residency program or your employer?
What is your net promoter score?
If you have poor clinical or communication skills, this will detract the patient and your loyalty score will take a dip and thus you pose a chance of failing Step 2 CS or having poor HCAHPS score. Let's invest in future and be the
promoter
and not the detractor.
Our pledge!
We at Vital Checklist assure you that your transition from Medical Student to a full-fledged physician will be smooth. We ensure the cost paid by you yields a high return on investment (ROI) and you start making a mark of yourself in the healthcare industry. We want you to be so well-trained and confident that from the very first day your skills and actions become noteworthy.